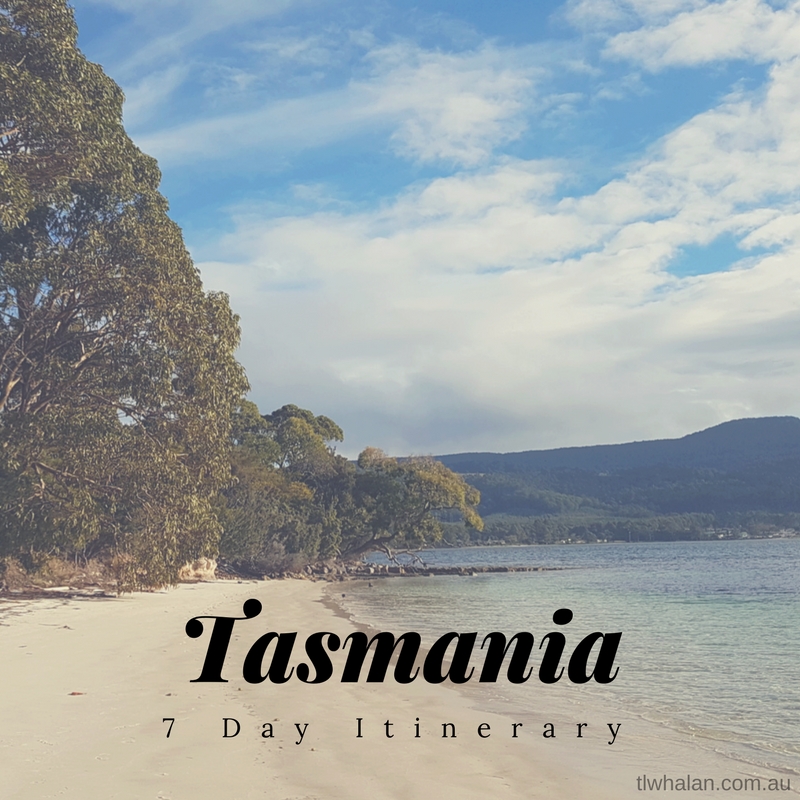 Recently, my husband and I went to Tasmania. We booked one week before we truly knew what we wanted to do in Tasmania – and indeed, before we knew that there was just so much to do in this little state.
We are already planning our next get away, but below I've included our seven day itinerary (first, a graphic – then, more details).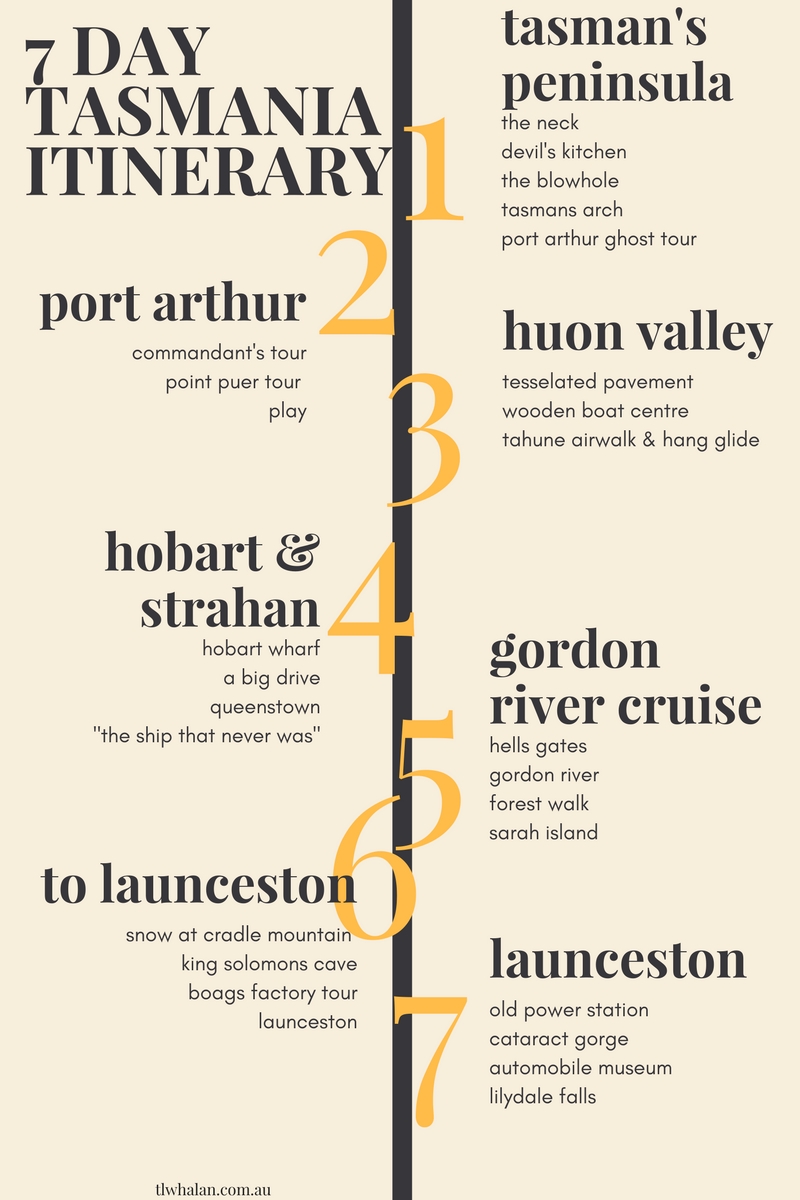 Monday
We arrived in Hobart at around midday.
We drove to Tasmans Peninsula, where we saw:

The Neck (dogline and cottage)
Devils Kitchen
The Blowhole
Tasmans Arch
Separate Prison and some aspects of Port Arthur Historic Site
Port Arthur Ghost Tour

We stayed the night at Port Arthur Holiday Park.
We ate at Melbourne Airport and Port Arthur Historic Site.
Jess and I really enjoyed so many things on this day. We would've loved to get into Tassie earlier, but flights prevented us from doing so. Really it would've been nice to do these things at a more leisurely pace.
Tuesday
This was our "Port Arthur Day". We went to the Port Arthur historic site and:

We looked at absolutely everything!
Commandant's Tour
Point Puer Tour
Play performed in Separate Prison

We stayed the night at Port Arthur Holiday Park.
We ate breakfast at Gabriel's, lunch at Port Arthur Historic Site, and dinner at The Fox and The Hound.
Jess and I were so happy that we did the tours at Port Arthur. It was something we strongly agreed really enhanced our Port Arthur experience. It was also awesome that, because we were travelling in 'off season', we had very small tour groups. Something we sadly didn't get to investigate is the coal mine on the Tasmans Peninsula – we didn't know it existed until we were on our trip. We plan to get there next time.
Wednesday
We saw the Tesselated Pavement on Tasmans Peninsula.
We stopped at Huon Valley Info Centre.
Had a tour at the Wooden Boat Centre.
Completed the Tahune Airwalk and Hang-glide Experience.
Attempted to drive to Reserche Bay, but had to turn around when the road turned to dirt. (Hire car joys.)
Drove back to Hobart.
We stayed the night at Harrington's 102 in Hobart.
We ate lunch at the Tahune Airwalk and dinner at Preachers (Hobart).
Jess really enjoyed the Tahune Airwalk, while I loved the Wooden Boat Centre. They run boat cruises on a historic boat from the Wooden Boat Centre and, had I known about it, I would've tried to fit that into the day.  And perhaps Hastings Caves too. Overall, there was a lot of driving this day. If I was to do my holiday again, I might've scrapped this day all together to spend time in other areas of Tassie.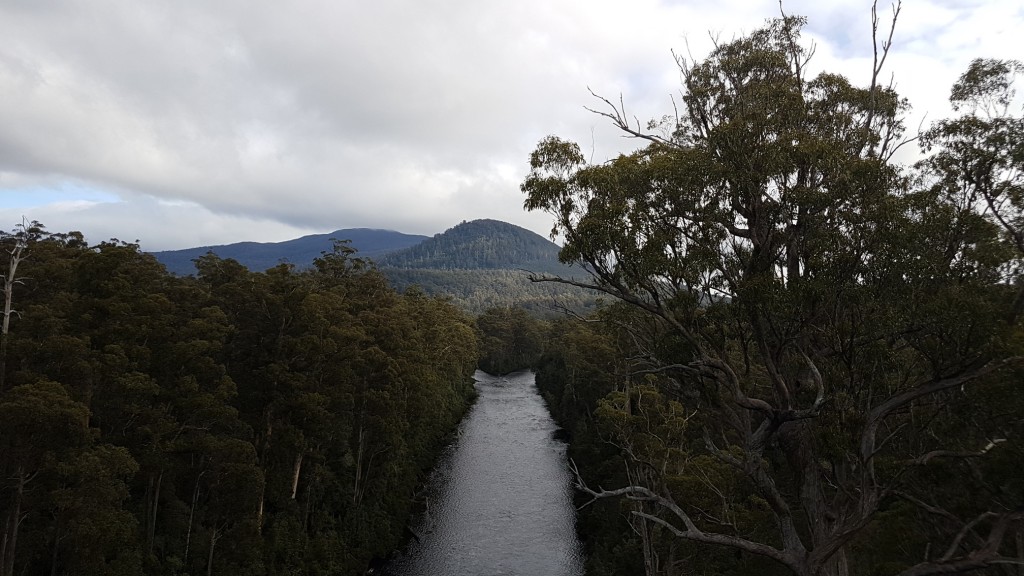 Thursday
Walk along Hobart Wharf.
Admired and purchased Nutpath Chocolates.
Drove to Queenstown for a walk and snack.
Watched "The Ship That Never Was" in Strahan.
Stayed at Motel Strahan.
We ate breakfast at Pollen Tea Room, had a hot chocolate at Tracks Cafe, and ate dinner at Bushman's Bar and Cafe.
There was so many things to do in Hobart. We never planned to make it part of our trip, so we were a bit overwhelmed with options. We did enjoy a leisurely breakfast, walking through the parks, and then looking at the ships in the wharf. Many of the museums are free so it would've been nice to check some of those out, in hindsight. I would've liked to spend more time in Queenstown – it was a cute little town.
One of my biggest regrets of the trip is not attending on a night that The Ship That Never Was was being performing in Strahan – there's three months of the year that it's not on, and we of course went during one of those months. We will be back to watch it in the flesh! (We watched a video of the performance instead.) Also, the Bushman's provided us with what Jess and I said were the best meals of our trip.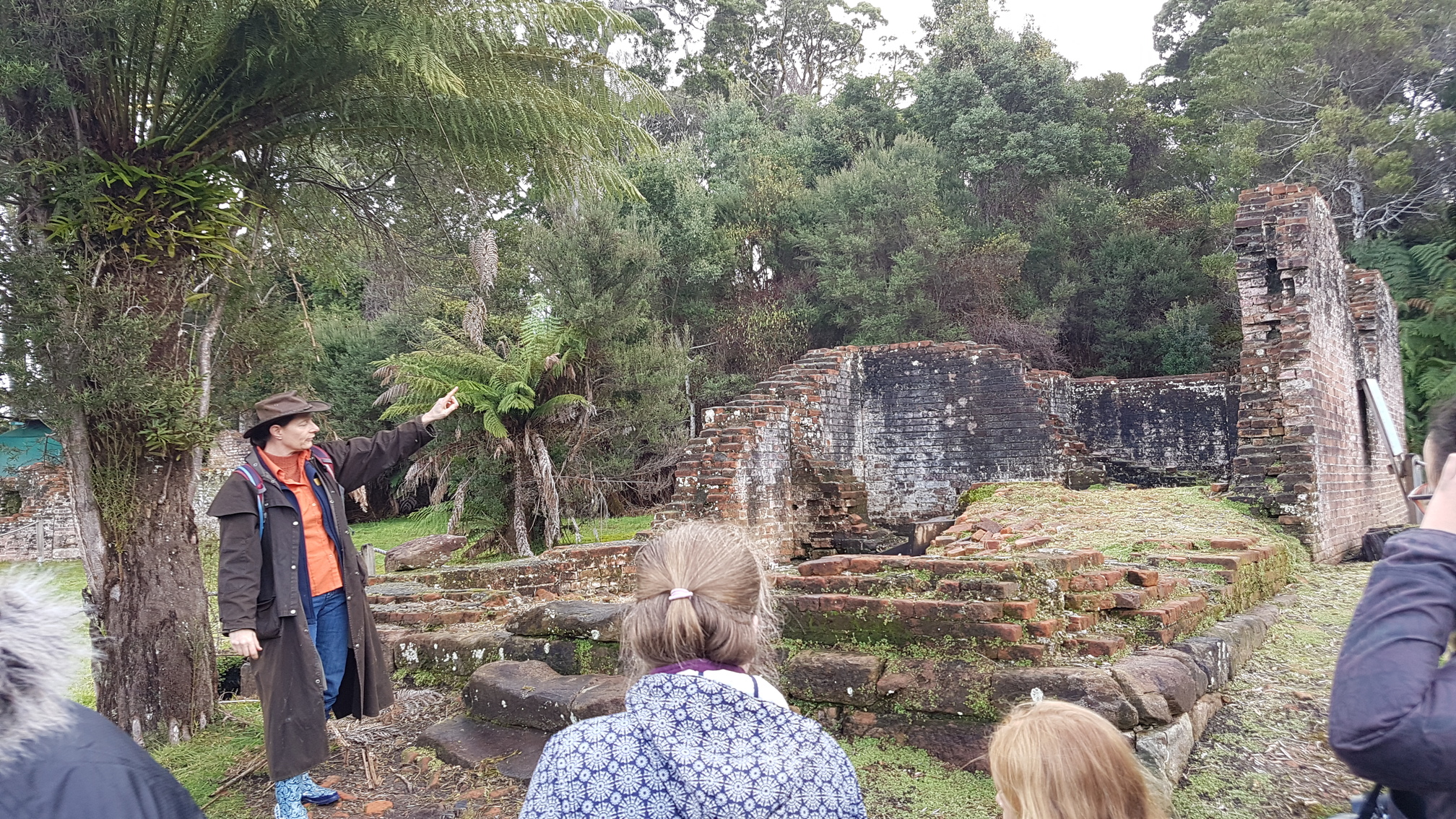 Friday
Undertook a Gordon River Cruise, which saw:

Hells Gates
Gordon River
Scenic forest walk
Sarah Island tour

Drove to Cradle Mountain.
Stayed at Discovery Park Cradle Mountain.
Ate breakfast at The Coffee Shack, lunch provided on the Gordon River Cruise, and dinner at Altitude.
This was one of our best days of our trip! We were on the boat for only about thirty minutes before we both said to each other, "This is worth it already." The Sarah Island tour was what I wanted to do, and it was very much worth. Just a wonderful day out. It was also a productive afternoon – I'm glad we chose to drive the two hours to Cradle Mountain to help us on our way the next day.
Saturday
Woke to snow in Cradle Mountain!
Drove to Mole creek, where we:

Toured King Solomon's Cave.
Stopped at the big Tasmanian Devil.

Drove to Launceston, where we:

Undertook a Boags Factory Tour.
Walked through Inversek.
Walked through City Park.
Drank at Saint John Craft Beer.

We stayed at the Star Bar
We ate at Cradle Mountain Forest Inn (hot chocolate), Pepperberry Cafe (Mole Creek), Prickly Cactus (Launceston), and Charli's Dessert Bar (Launceston).
I loved King Solomon's Cave. I'm a cave fan anyway, but I really think it was one of the most impressive caves I have ever been too. (Sadly, my photos are all blurry.) It was also wonderful to wake up to snow in Cradle Mountain, having never seen snow before. The only thing we may have chosen to differently is that, when we went to Saint John Craft Beer, there was a vegan burger on the menu and I was so in the mood for a burger that night! Though what I was fed at Prickly Cactus was amazing too, so hard choice.
Sunday
Walk to the power station.
Walk around Cataract Gorge.
National Automobile Museum of Tasmania.
Drove to Lilydale Falls.
We ate at Hudson's (hot chocolate), Seven Monks Cafe, and Melbourne Airport.
Our flight departed from Launceston late afternoon.
I am so pleased we went to the power station! It sounds like a weird tourist attraction but I found it fascinating. I was also pleased to go for the small drive to Lilydale to see the couple of waterfalls – seemed like a very Tasmanian way to end our trip. Our flights arrived and departed from a different terminal in Melbourne airport, and the vegan options were abysmal. Luckily I had brought my own snacks.
We are already planning our trip back, as there is so much good Tasmanian stuff that we missed out on. Have you visited Tasmania? What are your favourite places? Places that you wished you got a chance to see but missed?
Note: I only listed venues above where I was able to get something vegan to eat or drink. If I wasn't able to get a vegan meal, I did not mention the establishment. I was surprised how well I was fed in Tasmania – I was prepared for more vegan difficulties.